Wheelchair Lift Warner Robins GA
Welcome to the AmeriGlide Local Pages. Here you will find local resources about Wheelchair Lift in Warner Robins, GA and some related products that may be of interest to you. For your convenience, we have also compiled a list of businesses and services around Warner Robins, including Assisted Living, Health Insurance, and Medical Equipment that should help with your search. Before you take a look at the local resources, please browse through our competitively priced products that you could order from the comfort of your own home.
---
$1,239.00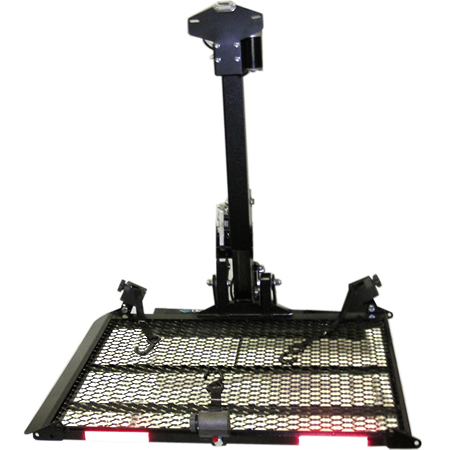 If you need a safe and reliable way to transport a power chair by vehicle, then our Auto Power Chair Lift 350 fits the bill. This electric wheelchair lift is easy to use, robust, and compatible with virtually every power chair available. Drive your power chair onto the lift's large steel platform, attach the self-tensioning retractors, raise the chair lift, and you are ready to go. You don't have to modify your power chair to use the Auto Power Chair Lift 350 and the platform folds automatically when it's empty. This electric wheelchair lift is there when you need it, out of the way when you don't. Find out if the Auto Power Chair Lift 350 is right for you by contacting one of our power chair lift experts.
$1,479.00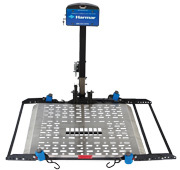 The Universal Outside Lift 350 XL is designed to lift larger electric wheelchairs and scooters. It will even support scooters that have a 48 inch wheelbase on its steel platform. Easy to use retractors lock the wheelchair or scooter in place and from there, the Universal Outside Lift will do the rest. Due to its size, the Universal Outside Lift 350 XL will only work with a Class III hitch. An available Swing Away Arm can be added as an option. This will allow you to access your tailgate or trunk without having to remove the scooter lift.
Local Companies
Gramps And Grannies
(478) 929-5242
500 North Houston Road
Warner Robins, GA
Services
Nursing homes, Assisted Living
Data Provided By:
Gramps N Grannies III
(478) 328-6640
316 Woodlawn Avenue
Warner Robins, GA
Services
Assisted Living Facility
Data Provided By:
Falcon II
(478) 922-9831
455 Myrtle Street
Warner Robins, GA
Services
Assisted Living Facility
Data Provided By:
Falcon I
(478) 922-5938
451 Myrtle Street
Warner Robins, GA
Services
Assisted Living Facility
Data Provided By:
Elberta Health Care
(478) 923-3146
419 Elberta Road
Warner Robins, GA
Services
Nursing Home Services
Data Provided By:
Gramps N Grannies II
(478) 923-8325
502 North Houston Road
Warner Robins, GA
Services
Nursing homes, Assisted Living
Data Provided By:
Gramps N Grannies III
(478) 328-6640
316 Woodlawn Avenue
Warner Robins, GA
Services
Nursing homes, Assisted Living
Data Provided By:
Falcon II
(478) 922-9831
455 Myrtle Street
Warner Robins, GA
Services
Nursing homes, Assisted Living
Data Provided By:
Gramps And Grannies
(478) 929-5242
500 North Houston Road
Warner Robins, GA
Services
Assisted Living Facility
Data Provided By:
Intensive Treatment Residence
(478) 988-7100
301 North Avenue
Warner Robins, GA
Services
Assisted Living Facility
Data Provided By:
Data Provided By:
Pritchardander8
(478) 405-7474
6501 Peake Road, Macon, GA 31210
Macon, GA
Grace Health Care of Tucker
(770) 934-3172
2165 Idlewood Road
Tucker, GA
changa
(518) 421-8634
107 suggs st
rossville, GA
Alliance For Affordable Services
(770) 594-2540
8302 Dunwoody Pl
Atlanta, GA
Blue Cross and Blue Shield
(404) 260-0060
3350 Peachtree Rd Ne
Atlanta, GA
Chambless Eye Care
(478) 405-7474
6501 Peake Road, Macon, Ga 31210
Macon, GA
Kaiser Permanente
(404) 364-4998
200 Cresent Centre Pkwy.
Tucker, GA
Resurgens Risk Management
(404) 873-1561
1201 Peachtree St NE
Atlanta, GA
American General Life
(770) 518-0277
8235 Dunwoody Pl
Atlanta, GA
Stryker Insurance Services
(770) 333-0344
1121 Drewsbury Court
Smyrna, GA
Ricketson Drug Co
(478) 825-2066
101 W Main St
Fort Valley, GA
Specialty
Medical Suppliers


Boland Prosthetic & Orthotic Cneter Llc
(478) 953-2922
151 S Houston Lake Rd
Warner Robins, GA
Specialty
Medical Suppliers


Houston Homecare Inc
(478) 929-3349
511 N Houston Rd
Warner Robins, GA
Specialty
Medical Suppliers


Diversified Phrmcy Svcs Of Middle Ga
635 Oglethorpe St
Macon, GA
Specialty
Medical Suppliers


Baconsfield Pharmacy Inc
656 Baconsfield Ctr
Macon, GA
Specialty
Medical Suppliers


Middle Georgia Home Infusion Inc
(478) 988-1378
1032 Ball St
Perry, GA
Specialty
Medical Suppliers


Street Home Medical Inc
(478) 922-2889
1538 Watson Blvd
Warner Robins, GA
Specialty
Medical Suppliers


Med Plus Medical Services Inc
(478) 746-9770
1021 Daisy Park
Macon, GA
Specialty
Medical Suppliers


Cherokee Med Supply Inc
(478) 742-6569
225 3rd St
Macon, GA
Specialty
Medical Suppliers


Barespon Home Health Care Services
2056 Sycamore St
Macon, GA
Specialty
Medical Suppliers