Bath Lifts Elk Grove CA
Welcome to the AmeriGlide Local Pages. Here you will find local resources about Bath Lifts in Elk Grove, CA and some related products that may be of interest to you. For your convenience, we have also compiled a list of businesses and services around Elk Grove, including Assisted Living, Health Insurance, and Medical Equipment that should help with your search. Before you take a look at the local resources, please browse through our competitively priced products that you could order from the comfort of your own home.
---
$849.00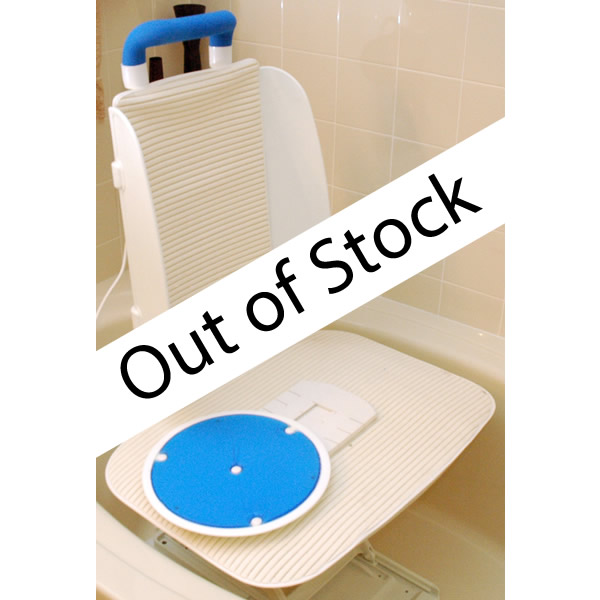 We are proud of our Premium Bath Lift because, simply stated, it's the best bath lift you can buy. When you take it out of the box you'll most likely notice how polished the design is and how dense the bath lift components seem to be. This is what true top-of-the-line bath lifts feel like. Good impressions should continue to be made as you note everything from how easily the bathtub lift by AmeriGlide assembles and how easy to use it is to how comfortable you are when you do use it. With a bathtub lift from AmeriGlide, you can easily care for a family member in your home or you can help give a family member an added security so they can maintain their independence. As customers across the nation can attest, bath lifts can restore freedom and restore peace of mind. If you've been wishing you could use the bathtub in your home again, but have been worried about your safety, then look no further than the AmeriGlide Premium Bath Lift. Contact one of our bathtub lift experts at AmeriGlide today to find out more! (bath lift shown with optional swivel seat and optional headrest)
$499.00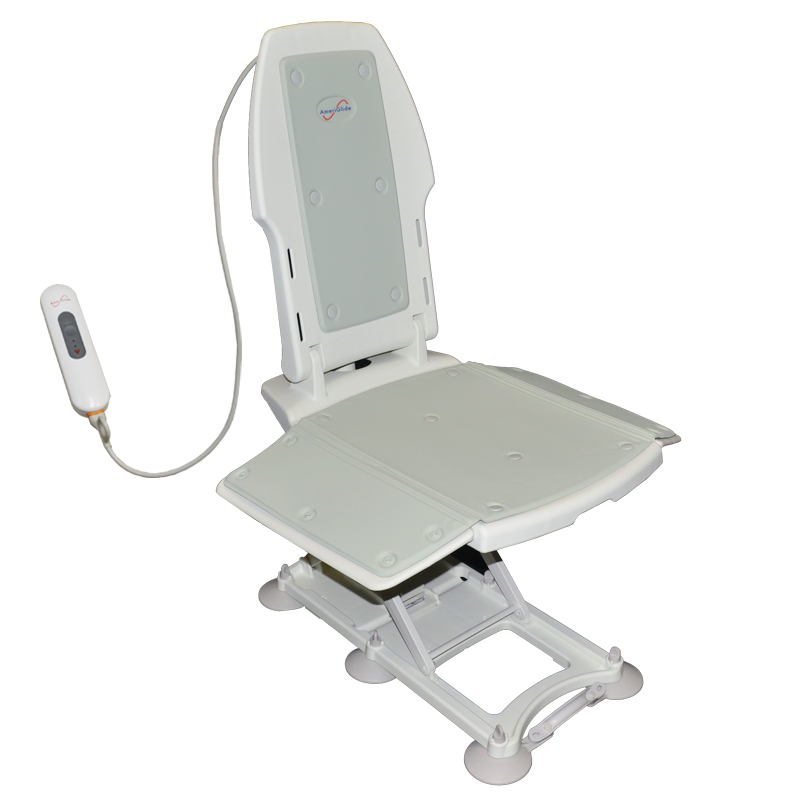 Standard AmeriGlide Bath Lifts are smaller units than Premium Bath Lifts but still have the "heavier than it looks" feel. This feel is the most significant sign of the bath lift's high quality construction. It's a one piece bathtub lift, and all you have to do to start using it is place it in your tub and connect the controller. The controller is identical to the one used on the AmeriGlide Premium bathtub lift and has large buttons that make it a joy to use. With bath lifts, you can easily care for a family member in your home. Or, you can continue your privacy and independence without needing to ask for assistance. Enjoy the added safety with a bathtub lift from AmeriGlide. AmeriGlide customers appreciate not only the bathtub lift's easy-to-use features, but also the freedom it gives them. For individuals who were once unable to step into the bathtub for fear of slipping and falling, an AmeriGlide bath lift makes it possible to once again enjoy the luxury of a warm bath. Have a question about our bath lifts or want to learn more about our bath lift installation services? Contact one of our bath lift specialists today.
Local Companies
St. Joseph's Higher Care Home
(916) 897-2162
5823 Fire Poppy Drive
Elk Grove, CA
Services
Assisted Living Facility
Data Provided By:
S.R. Williams Residential No. 2
(916) 714-9025
10326 Machico Way
Elk Grove, CA
Services
Assisted Living Facility
Data Provided By:
Pacific Care Home
(916) 685-3783
10108 Schuler Ranch Rd
Elk Grove, CA
Services
Nursing homes, Assisted Living
Data Provided By:
Vergie Ramos Home, The
(916) 714-2438
6604 Rabbit Hollow Way
Elk Grove, CA
Services
Nursing homes, Assisted Living
Data Provided By:
Country Home Care
(916) 922-7120
9370 West Stockton Boulevard
Elk Grove, CA
Services
In-home Care
Data Provided By:
Ro's Board and Care I
(916) 647-4473
10192 Vespas Way
Elk Grove, CA
Services
Nursing homes, Assisted Living
Data Provided By:
Pacific Care Home
(916) 685-3783
10108 Schuler Ranch Rd
Elk Grove, CA
Services
Assisted Living Facility
Data Provided By:
S.R. Williams Residential No. 2
(916) 714-9025
10326 Machico Way
Elk Grove, CA
Services
Nursing homes, Assisted Living
Data Provided By:
Berhane Humble Care Home
(916) 688-3359
8552 Charente Way
Elk Grove, CA
Services
Assisted Living Facility
Data Provided By:
Ladioray Home
(916) 428-0392
4510 Careyback Ave
Elk Grove, CA
Services
Nursing homes, Assisted Living
Data Provided By:
Data Provided By:
Ameriplan
(888) 209-8399
Lincoln Way
Sacramento, CA
Performance Restoration
(800) 547-9941
111315 Sunrise Gold Cir. Ste #H
Rancho Cordova, CA
Natomas Insurance
(916) 996-4387
2821 Macon Drive
Sacramento, CA
James Woyce
5121 North Ravine
Fair Oaks, CA
Company
Company: James Woyce, CPA
Service
IRA, 401k, Roth IRA, QDRO Rollovers,CD Alternative,Alternative Investments,Life Insurance,Annuity Ideas & Strategy Planning,Estate Tax Planning,Asset Protection Strategies & Planning,Hourly Financial Planning Engagements,401k Rollover From Employer,Income for Life/ Preserve Principal,Wealth Management,Medicaid,Retirement Planning,Planning For Personal Finances & Budgeting,Retirement Income Accumulation Planning,Individual Income Tax Planning,Pension for Highly Compensated Owners,Stock Market Alt
Data Provided By:
California Health Insurance Plans And Quotes
(916) 538-1816
2821 Macon Drive
Sacramento, CA
Western Health Advantage
(916) 614-6024
2349 Gatway Oaks STE. 100
Sacramento, CA
Sutter Regional Medical Foundation
(707) 428-2747
PO Box 160727
Sacramento, CA
Imani Lucas, MS Independent Life and Health Agent
(916) 339-7084
3435 Summer Park Drive
Sacramento , CA
Medicare Supplement Plans and Advantage Plans
(196) 538-1816
2821 Macon Drive
Sacramento, CA
Emmanuel Peter Eyo
(323) 294-6941
4025 Marlton Ave
Los Angeles, CA
Specialty
Medical Suppliers


Data Provided By:
Northern Ca Compression Thearpy Ctr Inc
(916) 961-6800
6611 Coyle Ave
Carmichael, CA
Specialty
Medical Suppliers


Linda Jeanne Reib
(916) 349-7600
5900 Coyle Ave
Carmichael, CA
Specialty
Medical Suppliers


Nutrishare Inc
(916) 685-5034
10519 E Stockton Blvd
Elk Grove, CA
Specialty
Medical Suppliers


Paul & Kerry Fedorenko
(916) 374-0400
2204 W Capitol Ave
West Sacramento, CA
Specialty
Medical Suppliers


Home Healthcomfort
(916) 737-6337
3130 Broadway
Sacramento, CA
Specialty
Medical Suppliers


Integral Orthotics & Prosthetics Inc
(916) 349-7600
5900 Coyle Ave
Carmichael, CA
Specialty
Medical Suppliers


J T Taylor
(916) 721-7518
6380 Tupelo Dr
Citrus Heights, CA
Specialty
Medical Suppliers


Gary White Od
(916) 638-4733
2340 Sunrise Blvd
Rancho Cordova, CA
Specialty
Medical Suppliers


Harbor Medical Supply
(916) 372-8766
2917 W Capitol Ave
West Sacramento, CA
Specialty
Medical Suppliers


Jacqueline E Johnson
1925 Murieta Way
Sacramento, CA
Specialty
Medical Suppliers